Alabama is one of the best places in the nation to do business, and word is spreading faster and faster. In September 2014, a national economic development publication, Area Development, surveyed site selection consultants across the U.S. on a variety of characteristics intended to rank the top states for business. Alabama places 4th in the survey's "Top States for Doing Business," which makes it five consecutive years scoring in the top five states of the publication's rankings.
We intend for this information to provide honest insight into what makes Alabama, and particularly Pickens County, a great place for business. We have worked hard to answer many questions you may have, but realize every business opportunity is unique and we encourage you to contact us directly for any information needed.
Target Industries
The economy of west Alabama has historically been defined by its natural resources. Agricultural production, livestock production, and timber farming have always played a large role in the region's wellbeing. These industries still make up a large percent of production in Pickens County, AL but make no mistake, we are open for business. We recognize the many assets in the area that can create advantages for other industries, and we encourage any industry to learn more about our resources.
Location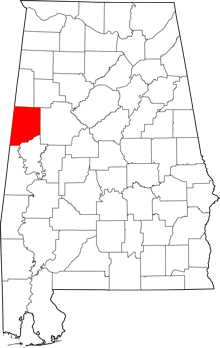 Being in Pickens County, Alabama situates you in the heart of one of the nation's fastest growing regions in terms of population and economic growth. More people and businesses are relocating to southern states than ever before, taking advantage of the ample business opportunities and market reach possible from being located in Alabama.
In Pickens County, Alabama you are directly connected to the state's 6 interstate highways, seven commercial airports, five Class 1 railroads, a full-service deepwater port, and one of the largest inland waterway systems in the nation. From Pickens County, AL you are within a 4.5 hour drive to many of the major cities in the Southeast U.S. based on driving distances alone. This is a major asset for businesses with needs for efficient distribution, because within a typical one-day drive by truck, your product can reach any major market in the Southeast and Midwest.
Driving Distances
Distances and Drive Times to Nearby Metro Areas from Carrollton
City
Drive Time
Distance (miles)
Atlanta, GA
3 hrs 45 mins
236
Birmingham, AL
1 hr 32 mins
91
Baton Rouge, LA
5 hrs 18 mins
339
Biloxi, MS
4 hrs 3 mins
248
Chattanooga, TN
3 hrs 53 mins
242
Columbus, MS
41 min
31
Huntsville, AL
3 hrs 2 mins
190
Jackson, MS
2 hrs 52 mins
176
Memphis, TN
3 hrs 29 mins
198
Mobile, AL
3 hrs 43 mins
204
Montgomery, AL
2 hrs 39 mins
167
Nashville, TN
4 hrs 22 mins
280
New Orleans, LA
4 hrs 26 mins
281
Pensacola, FL
4 hrs 34 mins
243
Source: Mapquest, Inc.
Note: Distances reflect standard driving routes from Carrollton, AL due to its central location within the county.
Major Markets Within One-Days Drive
Area
Drive Time
Distance (miles)
Dallas
8 hrs 11 mins
577
Houston
9 hrs 4 mins
606
St. Louis
7 hrs 20 mins
463
Indianapolis
8 hrs 45 mins
568
Louisville
6 hrs 54 mins
455
Cincinnati
8 hrs 26 mins
553
Charlotte
7 hrs 32 mins
480
Jacksonville
8 hrs 32 mins
505
Orlando
9 hrs 50 mins
597
Tampa
10 hrs 14 mins
615
Source: Mapquest, Inc.
Note: Distances reflect standard driving routes from Carrollton, AL due to its central location within the county.