Businesses in Pickens County, AL are within a one day drive to any major market from as far west as Dallas, TX, the Atlantic Coast to the east, and Lake Erie to the north. There are multiple ports in Pickens County along the Tennessee- Tombigbee Waterway to transport raw materials, bulk products, and finished products through an inland waterway system linking the Port of Mobile to 4,500 miles of navigable waterways serving mid-America. Two railroads in Pickens County, AL provide access to all of the North America via their connection to one of the five Class I railroads operating in Alabama. Commercial and passenger airports are close by for business or personal flights.
Road
Multiple highways through Pickens County connect this region of the Alabama to the rest of the nation. The expansion of Highway 82 in recent years has created a highway running from Montgomery, AL to Columbus, MS that is now four lanes nearly the entire way. Interstate 20/59, only minutes from the county line to the south, connects the major businesses hubs across the southeastern U.S.
Rail
In 2012, 169.9 million tons of freight were carried by railroads in Alabama. With 26 freight railroads and 3,194 miles of freight railroads crossing all over the state, including five Class I railroads, businesses in Alabama have access to all of North America. For more facts and figures about the Alabama Freight Railroad industry, including tonnage shipped by industry, visit: Association of American Railroads. Two railroads pass through Pickens County, Alabama:
Alabama & Gulf Coast Railroad, LLC (Class II)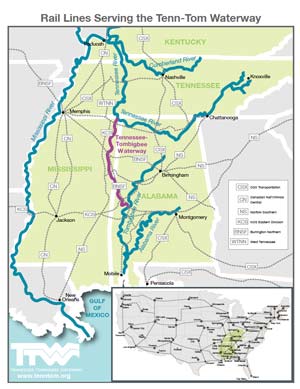 The Alabama & Gulf Coast Railway operates over 348 miles of owned and leased tracks from Pensacola, FL export terminals north to Columbus, MS and from Mobile, AL north to Kimbrough, AL. The AGR interchanges with BNSF, CAGY, CN, CSXT, GTRA, KCS, MNBR, NS, and TASD providing customer access across North America (Source: Genesee & Wyoming Inc.). AGR has two stations in Pickens County, AL: Pickensville  and Aliceville Industrial Park. For more information about the Alabama & Gulf Coast Railroad, click here.
The Alabama Southern Railroad (Class III)
The Alabama Southern Railroad (ABS) operates along 85 miles of track between Brookwood, AL and Columbus, MS, with trackage rights continuing westward to Artesia, MS. ABS is one of four rail lines in Alabama owned by Watco Companies.
Other Alabama Rail Resources:
Water
Alabama water corridors connect to over 15,000 miles of inland waterways in 23 states. The Alabama Channel at the Port of Mobile bisects the 1,300-mile Intracoastal Waterway, giving access to markets from Texas to Florida.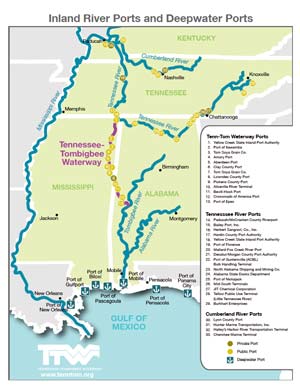 Pickens County Alabama is connected to this expansive network of inland waterways via the Tennessee-Tombigbee Waterway. This 234 mile corridor along the Alabama and Mississippi border connects the Tennessee River with the Tombigbee River which flows all the way to the Port of Mobile, creating a navigable passage for shipping goods throughout the entire eastern U.S. There are 3 ports in Pickens County Alabama along the Tenn-Tom Waterway (2 public, 1 private)
For more information about the Tenn-Tom Waterway, including specific information on shipping, towing services, rates, ports and terminals, commodities, recreation, and regulations, please contact The Tennessee-Tombigbee Waterway Development Authority at 662-328-3286 or visit: www.business.tenntom.org.
Additional Resources for information on Alabama Ports and Waterways:
Air
There are two public use airports in Pickens County Alabama.
There are two commercial airports nearby: